Well, the boys have done it again! Our D5 top line, comprised of Dylan Bebee, Joseph Bucaro, John Etzel, Andras Hancock, Dylan Mehaffey, and Andrew Zak brought home another first place trophy in their most impressive showing yet. Competing in the Minor League Paintball Series (MiLP) on April 24th, our D5 line competed against 17 other teams from around the SouthEast US. Just to escape the preliminary round the boys had to battle thru two must win points at the end of the prelims, and the day found the team continually battling from behind after slow starts.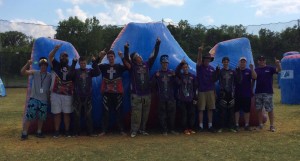 After a hard fought prelim that saw WFC finish second behind Tampa Bay Damage Crew, the boys knew winning this tournament would be their biggest challenge yet. With a win in the quarterfinals, the team moved into a semi-final match against STK Crew, a quality team from Miami. After splitting the first two points, WFC prevailed in the final point and moved into the finals against CBM. The Care Bear Militia, out of Fort Myers, is well organized and led, and the finals figured to be a slugfest. And it was. With the final match tied at 1 each, the last game came down to one player from each team remaining, and our player, Andrew Zak, prevailed! Three wins in a row – Mission accomplished!
For our D6 lines, the day was more challenging and did not lead to victory. For starters, our lines were matched against each other in preliminary bracket play, along with four other teams. That meant possibly eliminating each other, but the boys had the right attitude from the beginning and challenged each other to be the top two teams in the bracket so both lines would advance. As the tourney began, each line (after starting slowly too, must have been the water) fought furiously, and the Blue line was able to escape the prelims and move into the playoffs. However, with gun problems early and a strong effort by the opponent, Blue was eliminated in the first round of the D6 playoff.
All in all, an amazing tourney! Our team is grateful to all our sponsors, the pit crew, pod runners, and parents who showed up to cheer us on – thank you everyone!