Have you ever wanted to be a part of something special, to be a part of a team of people engaged in a singular mission?
If you have, why not join our paintball team?
COMPETITION TEAM:
Our competition team is made up of club members who desire to compete at a high level in the most adrenaline packed tourney sport imaginable.  Play 5 man tournaments with us, and engage in a sport that demands aggression, timing, skill, and nerve; and most importantly, teamwork!  We have a great group of young men (girls are welcome but this is a tough sport that not too many girls want to play) who are competing for the glory of Christ and Country.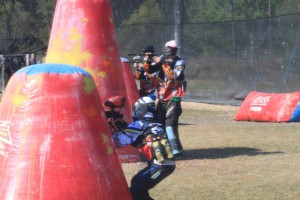 Danny rolling his gun with his boys!
Coach:  L.P. Everett
Assistant Coach:  Don Thompson
Team Manager – Don Hancock
Assistants – Dan Fuller, Troy Purdue
See our Team Rules:
WFC2 Athletic Airball Team Code of Conduct and Team Rules