Thanks to a VERY generous contribution, we have 30 new Tippman 98 rental guns! Douglas A. Dodd, the father of our beloved Sgt. Jimmy, passed away March 24 of this year. He was watching from afar and completely impressed with the father-child aspect of our game, and so he made this incredible gift to us. He always listened with a smile as Jimmy told stories of the play of son AJ, and daughter Rily.
This author could tell you one of the coolest stories in paintball that involved Madam Rily – too long for this forum but let's just say she dished out some serious pain to quite a few boys! And anyone that plays with WFC or locally in the competitive paintball scene knows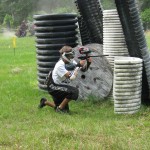 who AJ is (pictured and he of the PSP world record!), and no doubt his exploits brought a smile to granddad's face.
Thanks Mr. Dodd, your initials are engraved on the gifted guns, and now we are able to comfortably host groups of more than 50 people without worrying about the occasional gun in need of repair (of course, the repair guys would say more than the occasional). We could not exist without the assistance of our volunteers and sponsors, and the kind people who help us in so many ways: often times unexpectedly, just like this gift. THANKS DAD!!!